Accento Aroma
This scent is Opulent and Sophisticated
159 SAR
Accento Aroma perfume is inspired by Accento's Sospiro, this perfume is a great alternative to the original scent with an intriguing fragrance that's impossible to ignore. The fragrance smells clean and earthy, with notes of leather and milk, while its woody notes and hints of synthetic material give it a unique, modern edge that suits both men and women making it the ideal pick for anyone looking to set themselves apart from the crowd.
In stock
Embrace Elegance, Exude Sensuality
Inspired by Accento Sospiro, Accento Aroma Perfume by Aroma Wave is a unisex Amber Woody fragrance that transcends the ordinary. Launched in 2011, Accento Sospiro is a symphony of freshness, elegance, and sensuality, crafted by Christian Carbonnel and Laura Santander. Accento Aroma captures this essence, offering a scent that's suitable for all occasions, day or night.
What are The Ingredients in Accento Sospiro ?
The Fresh Opening: Pineapple and Hyacinth
Accento Aroma opens with the invigorating freshness of pineapple, a tropical delight that teases the senses. The hyacinth adds a floral touch, creating a harmonious blend that's both lively and sophisticated. It's a fresh and elegant start that sets the stage for a fragrance journey that's both confident and attractive.
The Sensual Heart: Pink Pepper, Iris, and Jasmine
The heart of Accento Aroma is where sensuality blossoms. The spicy kick of pink pepper mingles with the soft elegance of iris and the intoxicating allure of jasmine. This combination creates a complex and sensual heart that's both elegant and classy. The presence of orris adds a touch of mystique, while the sandalwood brings a creamy warmth.
The Warm Embrace: Musk, Amber, Vetiver, Patchouli, and Vanilla
The base notes of Accento Aroma are a warm embrace that lingers on the skin. The musk adds a sensual depth, the amber a golden glow, the vetiver a touch of earthiness, and the patchouli a hint of exotic spice. The vanilla adds a sweet and comforting finish, creating a long-lasting aroma that's both warm and inviting.
Accento Aroma: A Fragrance for the Confident and Attractive
Accento Aroma is more than a fragrance; it's an expression of confidence and attractiveness. It's a perfume that's suitable for both men and women, offering a fresh, elegant, and sensual experience. Whether worn on a special night out or as a signature scent, Accento Aroma is a fragrance that makes you feel empowered and alluring.
The Fragrance Family: A Symphony of Ingredients
Accento Aroma belongs to the Amber Woody fragrance family,as Accento Sospiro perfumes, a category known for its warm, rich, and sensual characteristics. The ingredients are carefully chosen to create a harmonious blend:
Accento Aroma: A Sensual Experience
Accento Aroma by Aroma Wave is a sensual experience that invites you to embrace elegance and exude sensuality. Inspired by Accento Sospiro, it's a fragrance that captures the essence of freshness, elegance, and sensuality in a bottle.
Additional information
| | |
| --- | --- |
| Base Notes | |
| Collection | |
| Fragrance Family | |
| Gender | |
| Inspired brand | |
| Middle Notes | |
| Size | 50 ml |
| Top Notes | |
| Dimensions | 7 × 9 × 17 cm |
| Weight | 0.375 kg |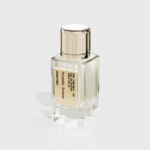 Accento Aroma
Your review
* Review is required
Email
* Email is required
Add photos or video to your review
Q & A
There are no questions yet