Highly renowned for its sensual and warm notes, amber designates the fragrance par excellence in the olfactory universe. Still called an oriental scent, the amber scent embodies the essences of both male and female seduction. Discover all the secrets of this captivating fragrance.
Amber perfumes for Men and Women!
What does Amber fragrance smell like?
Since ambergris is extremely rare, the best in perfumery is amber.
Amber is a chemically derived accord designed to mimic the scent of ambergris. Made from benzoin, a vanilla oil from a Styrax Benzoin tree, labdanum resin that has a woody scent, and just a little bit of vanilla to mimic that sweet, smooth, gentle warmth that perfumers go crazy for. Today, 99% of perfumes contain amber.
How is amber note used by perfumers?
Amber, discovered in the Middle Ages, was mainly used for its medicinal properties. It then became an essential scent in oriental perfumery. Amber is particularly known for its sensual and intoxicating fragrance, which gives it its aphrodisiac properties. After the substance dries, amber releases a fragrant powder used in perfumes. Described as a majestic note, it is a real olfactory asset to sublimate a scented creation.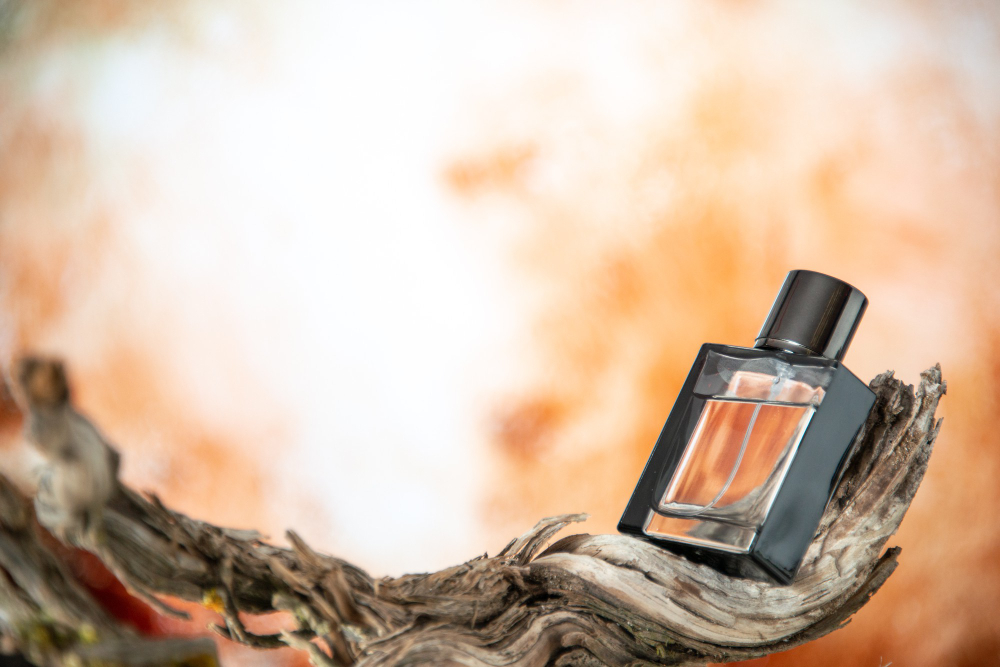 For years, amber is exposed to the coastline and light, which then give it its fragrant note and character. After being recovered, the amber must be macerated for a long time to extract a liquid. This perfumed liquid is at first almost repulsive, but then come the iodized and amber scents.
Today, perfumers work with it for its warm and sensual side, which delights those in search of a powerful and attractive fragrance. But as amber is quite rare (between 1 and 5% of sperm whales produce it), it is also a very expensive fragrance. Many perfumers therefore reproduce its fragrance synthetically in the laboratory, recognized under the name of amber notes. Synthetic molecules have several objectives: to replace natural molecules because they are too rare, too expensive; to protect the ecosystem (animals and plants); to reduce the risk of allergy; or to simply let your artistic fiber speak for itself (synthetic raw materials make it possible to extend the creations by offering a larger number of smells and effects).
What is the amber scent used for?
Amber is often considered one of the oldest scents, and it is still very popular today. There are several reasons for this: Amber scent is known to be very potent and long-lasting, making it a great option for those who want their scent to be long-lasting. Moreover, amber has a rich and warm smell that can easily be associated with a charismatic and sophisticated person.
What types of amber perfumes exist?
Amber perfumes can come in a variety of forms, including eau de toilette, eau de parfum, and scented oil. Eau de toilette is a type of light perfume that can be worn all day and provides a certain freshness. Eau de parfum is generally stronger and longer-lasting, making it perfect for special occasions. Finally, fragrance oils are usually quite intense and are best suited to those who want a very rich, lingering scent.
know more about perfumes concentrations and how to choose the perfect eau de parfums or eau de cologn to the perfect occasion.
How do I choose the right amber perfume?
Choosing the right amber scent can be a bit daunting, but there are several tips to help you out. First, you should try different notes, such as citrus, florals, exotic fruits, and woods. Then, try on as many scents as possible to find the one that works best for you. Finally, remember that you don't have to spend a fortune to have a nice scent, so look for affordable but quality perfumes.
Why do we love perfumes with Amber?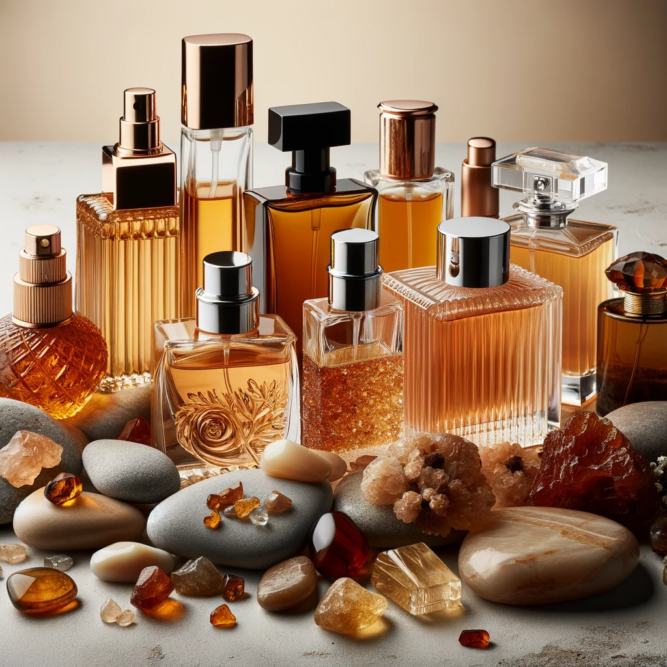 Relieves stress and anxiety
There is a proven link between the limbic system and the olfactory system and the essence of amber is the perfect ally to combat stress and anxiety. Take advantage of its relaxing effects by adding a few drops of essential oil (the pure one) in the bath, or you can mix it with body oil for massages. On the other hand, you can place a candle or mikado with this aroma in a room while you read or meditate or in your bedroom to rest better. Two perfect ways to calm the mind and body!
Has an aphrodisiac effect
There are certain scents that mimic the action of pheromones on our sense of smell, triggering the attraction response. When diffused in a room in the home, its exotic and attractive aroma stimulates the release of these hormones, which increases sexual drive and livid. Add a few drops of essence in a burner and let yourself be carried away by this captivating and hypnotic fragrance!
A captivating smell
But then, what does amber smell like? The perfume of ambergris is difficult to describe as it changes according to the time of floating at sea and its origin. There are of course heavy and powerful notes of an animal or even musky smell . The nose will also be tickled by woody notes of tobacco , oriental spices or a seaweed seabed. This material also awakens our senses with warmer notes of creamy vanilla. It evokes a different memory for everyone, letting the olfactory memory take effect. From incense burned in churches to the scents of oriental markets, amber reveals its thousand and one facets to delight skins in search of warmth.
Promotes positive energy
The aroma of Amber generates prosperity and helps create positive energies and eliminate negative ones to achieve an atmosphere of serenity. The most outstanding energetic properties are: calms the mind, unblocks, recharges the exhausted psyche and eliminates obstacles, friction, resentments and grudges from the people with whom we live. You know, wrap your home with this magical fragrance!
Improves concentration and memory
As we have said, this aroma reduces the levels of stress hormones in the body; therefore, it helps improve cognition, clears the mind, and increases concentration. It is ideal for studying but also for other activities that require a high degree of concentration, such as driving.
Now that you know the powerful benefits of the aroma of Amber, it is a good time to create a unique and personality-filled environment in your home!
Wanna Choose more natural Ingredient , Know More about Lavender in perfumes, its effect and its scent.
Choose your Amber scent
Amber or oriental perfumes are classified into several categories and are distinguished by their warm and captivating notes. We thus distinguish the spicy or gourmet notes, composed of cloves or cinnamon, which are perfectly suited to women who are provocative, passionate, voluptuous, and love life.
On the other hand, sweet amber notes are often vanilla and are reserved for those with a soft and sensual personality.
The floral notes are scents that characterize women who love flowery essences such as lily or jasmine. Woody scents have notes composed of cedar or sandalwood. Whatever their scents, amber perfumes are characteristic of femininity, exciting, and seductive sensuality. They are also very present in men's perfumery and offer unisex perfumes for use by both men and women.
Where to buy amber perfumes?
Arguably the best place to find amber perfumes is at a perfumery, as they will allow you to try different types of perfumes before purchasing one. You can also find amber perfumes online, but be sure to pay attention to reviews from other customers so you don't buy a disappointing product. Finally, you can find amber scents in many large supermarkets, although they are often less expensive and less varied.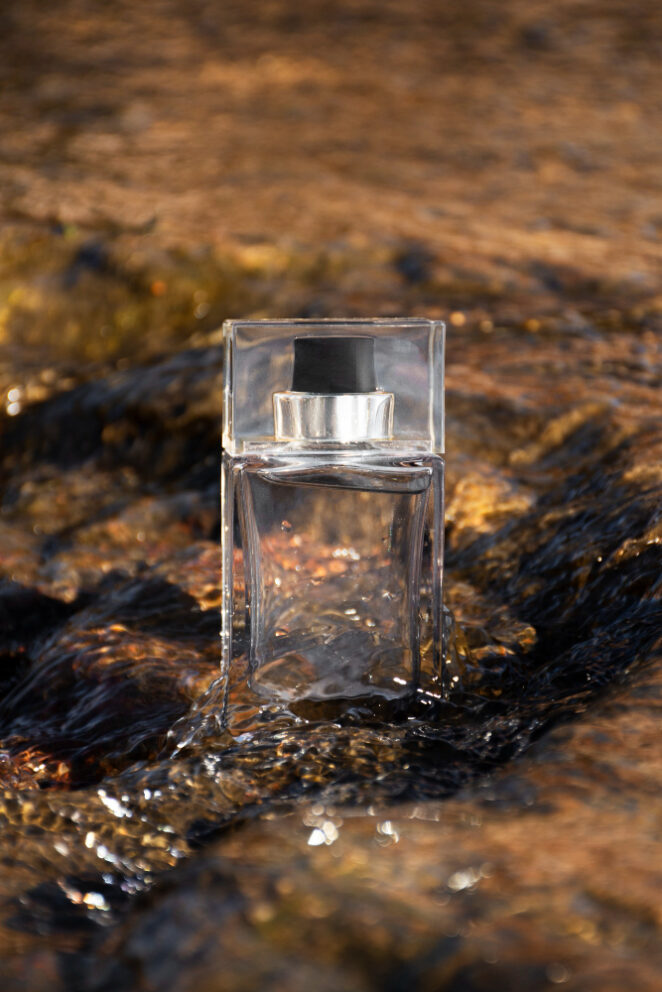 How do I apply amber perfume?
Knowing how to apply perfume correctly is important if you want to experience its full benefits. To do this, you must first apply a small amount to hot spots on the body, such as behind the ears, inside the wrists, and in the hollow of the throat. Then let the fragrance soak into the skin, waiting about 5 minutes before putting on another layer. The amount of perfume to apply will depend on its strength, but do not exceed 2 or 3 coats to avoid overdoing it.
In conclusion, choosing your amber perfume can seem like a daunting task, but by following the tips mentioned above, you should be able to find the perfect perfume. Don't overlook the importance of a good application, and remember that you don't have to spend a lot of money to get a quality scent. With a little patience and research, you will surely find the amber scent that suits you best.
The best amber perfumes
Inspired by Hermès's Hermessence Ambre Narguile, Experience cherished memories with Cherished Memories Perfume by Aroma Wave, inspired by the beloved French perfume for women, Hermessence Ambre Narguilé by Hermes. Embrace the warmth and sensuality of the top notes, indulge in the journey of passion with the captivating heart notes, and carry the fragrance of treasured moments with you in the lingering base notes. Relive the essence, ignite your emotions, and shop Cherished Memories Perfume now.
NEROLI VERANZA inspired by PORTOFINO by TOM FORD
Launched in 2011, this unisex fragrance stands out for its amber base notes, which result in a perfect balance between its citrus notes and those of white flowers . Tom Ford's Neroli Portofino ( DIVAIN-560) has top notes of bergamot, mandarin and lemon.
Introduced to the world in 1990, this eau de toilette is a perfect symbol of femininity for the classic woman . Eau Du Soir de Sisley (DIVAIN-165) is known for its fruit essences like grapefruit and tangerine which are accompanied by woody notes like oak moss and Virginia juniper.
The Venusian inspired by ALIEN BY THIERRY MUGLER
This perfume is an excellent choice if you are looking for a white floral aroma with hints of jasmine and amber. Alien by Thierry Mugler for women (DIVAIN-091) by Thierry Mugler is intoxicating and is intended above all to be successful in the evening.
Did you know the origin of ambergris? Are you already addicted to this ingredient or are you now ready to give it a try?